Let me tell you a tale of a little girl named Hello Kitty and how she acquired her magnificent Chogokin suit.
One fine sunny day in London, Hello Kitty was taking a stroll with her favorite Mazinger Z Chogokin when suddenly her foot hit a rock and the Chogokin went flying into a nearby pond. Lucky for her a fairy emerged from the pond with a gold Chogokin and a silver Chogokin and the fairy asked Hello Kitty which was hers. Hello Kitty, being the honest little girl she is, told the fairy that neither were the Chogokin she dropped into the pond as she only had a regular one. The fairy was so thrilled with Hello Kitty's honesty the fairy mustered up some mighty magical powers and a giant Chogokin suit appeared for Hello Kitty!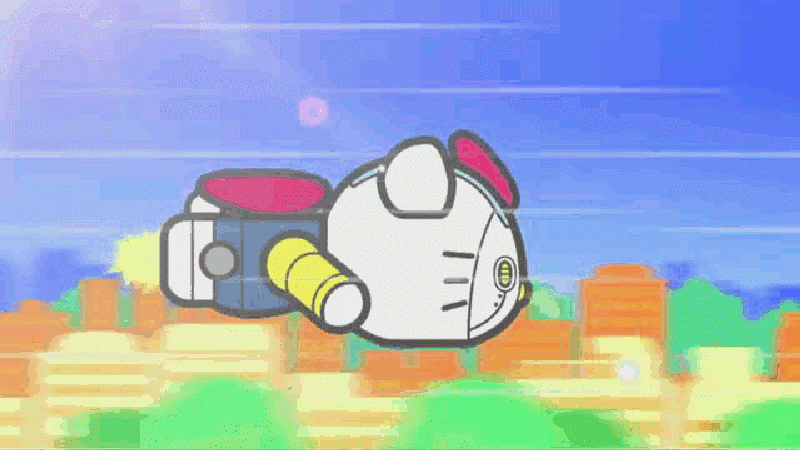 Thanks to Hello Kitty's honesty we can all now enjoy this Hello Kitty Chogokin Die-Cast Metal Action Figure! The figure is nearly 4-inches of action-packed precision technology. She has four different poses. She can stand there in all her mecha glory with Hello Kitty in the cockpit or seated at the base. She can transform into Drive Mode where you can drive her around on just about any surface via small wheels on her legs and one in her tail. If that isn't exciting enough you can combine her with her accessory ribbon for Flight Mode! Oh… but there's more. Her ribbon disassembles and turns into flippers for Dive Mode to battle those deep sea baddies. You can change her eyes for three different expressions including Angry Mode which matches perfectly with her Rocket Punch effect where she fires her fists at any danger standing in her way.
The figure comes with a commemorative display stand where you can display Hello Kitty Chogokin standing, sitting, flying or diving! Order the Hello Kitty Chogokin Die-Cast Metal Action Figure now before it blasts off never to be seen again!
Comments
comments